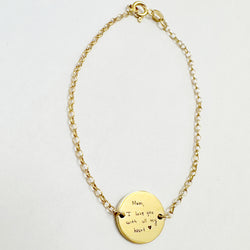 Gold Children's Handwriting Bracelet
Our meaningful jewellery is the perfect way to spoil the Mother figure in your life.
Customise this design by adding your children's writing as engraving onto our gold bracelet.
Select between Gold Plated or solid 9ct Gold.
Pendant size: 15mm // Chain Length: 16cm / 17cm / 18cm
Once your order has been placed, email the drawing that you would like engraved, as well as your order number, to us at orders@merakijewellerydesign.com.
Please make sure that the image is of good quality. We will then generate the illustration and engrave it onto the necklace. 

All illustrations are final and no changes can be made once the illustration or engraving is complete. 

Please note that all our personalised items are made to order and take 10 - 14 working days to manufacture. This does not include shipping time. 

Gift Wrapping
Is this item a gift? Click here to add luxury gift wrapping for that special touch.